May 1, 2012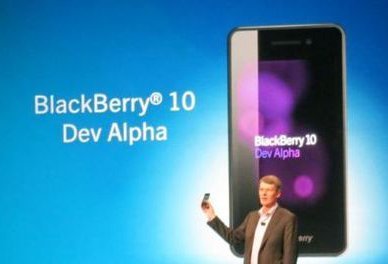 A number of blogs and tech sites estimated BlackBerry 10 smartphones to be launched on the BlackBerry World 2012 event. Unfortunately, this prediction is not proven. No launch new smartphone in this event, but the BlackBerry smartphone prototype that was introduced 10 CEO Research In Motion, Thorsten Heins. Thorsten called BlackBerry Dev Alpha 10. It looks familiar, similar to the leaks that had circulated previously. Prototype is a touch screen smartphone, rectangular shape.
Thorsten emphasized that the BlackBerry Dev Alpha 10 is not the final hardware. That is, the smartphone is still under development and is claimed to be presenting a different experience for BlackBerry users.
"It's important for us to show this to the developers in a variety of the world, so they can start creating content and applications of interest to users," said Heins, the BlackBerry World, Orlando, USA, Wednesday (05/02/2012).
To the developers who attend this event, RIM distributed freely BlackBerry Dev Alpha 10 fishing enthusiasm for developers to create applications. Heins promised, when it launches later OS-based smartphone BlackBerry 10 will meet the needs of the users will be more productive. Did not say when the smartphone is finally released. The first smartphone based on BlackBerry OS 10 is touted to be landed before the end of this year.